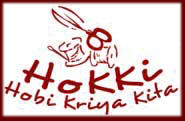 Here something you don't see everyday, I got interviewed!
The great admin of
Hobi Kriya Kita
has posted an interview with yours truly.
You can read more about the interview here >>
Edsa: Figur di balik figurin MidzToyz
. It's in bahasa Indonesia though.
There are also some great articles on craft works on the site, so do check it out!
Now you can actually see how disorganize and messy my workspace is :lol: