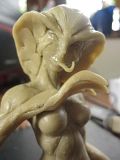 Started this sculpt to participate in The Clubhouse sculpting jam.
I've started several sculpture like this in the past but haven't finished even one. So this is the one that
WILL
be finished, with paint and all that jazz. Took my inspiration from FFXI lamia. Will probably change the head design. Sculpted in MwaxZ E, the soft type. The torso is about 10 cm. Since it is sculpted in soft wax, I will need to transfer it to a harder wax soon, or perhaps straight to resin for detailing and finishing. Shouldn't be too much of a hassle :)
More pictures after the break.
Also, stay tuned for more updates from my older projects. Toph included!